Serving Kelowna to Vernon, BC and surrounding areas
CONCRETE CONTRACTOR,  CONCRETE DRIVEWAY, STAMPED CONCRETE KELOWNA B.C
CONCRETE SERVICE KELOWNA AND CONCRETE PROFESSIONALS
Welcome to our Concrete Pros of Kelowna website! We are a team of experienced professionals dedicated to providing top-quality concrete services for residential and commercial clients.
With over 20 years of experience in the industry, we have honed our skills to deliver exceptional results every time. We pride ourselves on our attention to detail and our ability to complete projects on time and within budget.
Our services include concrete installation, repair, and maintenance for a wide range of applications. From driveways and sidewalks to patios and retaining walls, we can handle it all. We also offer decorative concrete options such as stamped and stained concrete to add a unique and personalized touch to your space.
Our team is fully licensed and insured, ensuring that your project is completed safely and to the highest standards. We use only the best materials and equipment to ensure that your concrete is durable and long-lasting.
In addition to our exceptional workmanship, we also strive to provide exceptional customer service. We understand that having work done on your property can be stressful, which is why we make sure to communicate clearly and efficiently with our clients throughout the process. We are always happy to answer any questions and address any concerns you may have.
If you are in need of concrete services, don't hesitate to contact us. We offer free estimates and would be happy to discuss your project in detail. Our goal is to help you achieve the space of your dreams, so don't hesitate to reach out to us today.
Thank you for considering our team for your concrete needs. We look forward to working with you.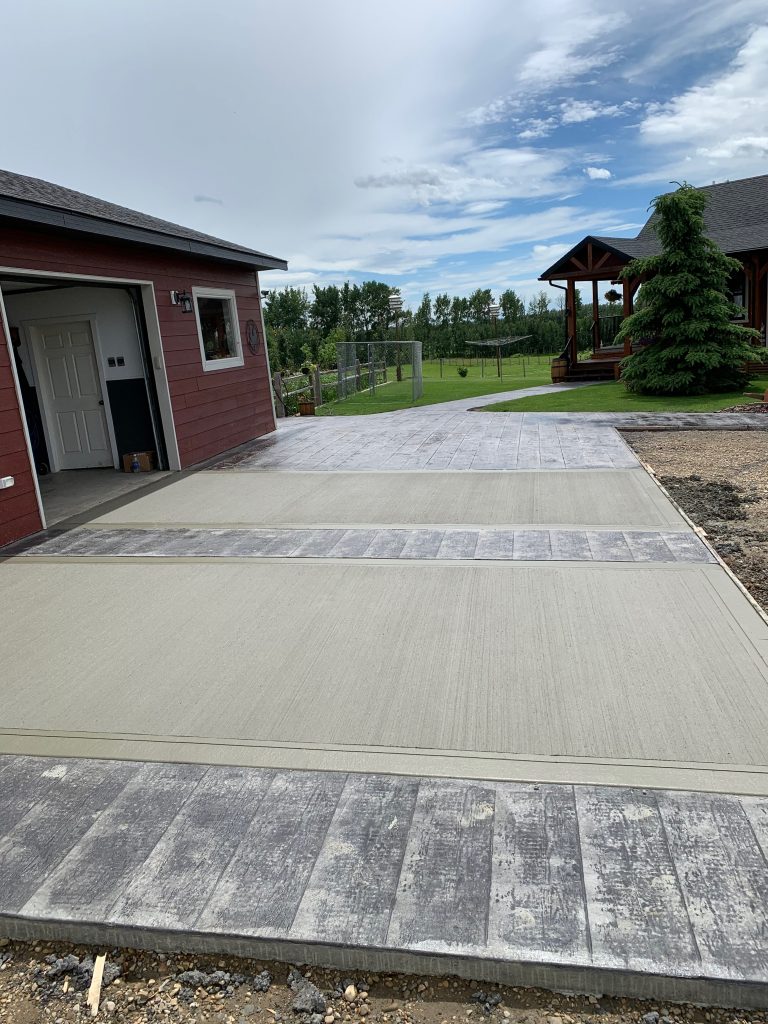 Are you in the market for a professional concrete service or have a project in mind but are not sure where to start? If so, you will likely need the professional help of a qualified concrete contractor or concrete company.
Concrete contractors, or cement contractors, offer a wide range of services to help you obtain one of the industry's most durable materials: concrete! With the help of a concrete contractor, you can also gain further insight into the price points for every type of service, including a patio cost, garage floors, concrete placing and restoration so that you can better budget your anticipated projects.
About Us
Kelowna Concrete Services provides premier services and solutions that are brought straight to our clients in the Kelowna area, with professionalism and durability in mind. We're proud to provide the best concrete Okanagan has to offer and can assist with virtually any project you're considering, including driveways, patios, stamped concrete and other forms of flat decorative concrete work. Our team is licensed and certified, offering you only skilled techniques and solutions to accommodate your desire for long-lasting and reliable concrete.
Our unique range of quality services was designed to offer you the best selection of solutions available in the Kelowna and West Kelowna area. Whether you're looking for garage floors to install in your home, concrete placing or you want something more unique, such as a textured concrete finish for your patio, we can make it happen! All of our services are delivered straight to your doorstep for ease and comfort so that you don't have to lift a finger when it comes to installing, maintaining, and caring for your concrete or concrete restoration project.
Concrete Services
Concrete Driveway
Concrete Finishing
Concrete Service
As the professionals in the area, we're able to provide a wide range of solutions that include everything from driveway installation, concrete restoration, wood stamped concrete, patio installation, and much more! We cater our services to our clients' needs and can help manage your expectations further through our consultations with our experts beforehand.
Concrete Driveway 
Concrete continues to be one of the best building materials available for driveways. We believe in the strength and durability that concrete can offer, as it's able to provide long-lasting durability and beauty for your driveway's surface. Concrete can also hold the weight and pressure of vehicles that come in and out of your driveway, making it one of the top materials to use for your home's exterior surfaces. You can also tweak it and add color or texture to it so that it's unique to your outdoor space and adding a stunning aesthetic to your home.
Concrete Finishing
Concrete finishing is the process of adding more texture, color, and dimension to the surface of your concrete. We're able to add custom finishes to the surface when it is still wet and hasn't completely dried yet. This includes staining, stamping, polishing, broom finish , exposed aggregate , and much more! If you want to customize your look for a unique and stunning finish, we can with all your concrete needs.
Over here at Kelowna Concrete Services provide a variety of concrete services. This includes:
Concrete Patios
Stamped Concrete
Concrete Floors
Pools
So if you are in Kelowna BC, West Kelowna  or the surrounding area, we are available to help you anytime.
Here is a 4 step guide to get started on our concrete services:
Get instant pricing for your project!
Our team of industry experts is available anytime during business hours. We'll come to you at no cost, or simply give a free quote via phone call 778-760-8922 You may also send an inquiry online via our Instant Quote Form or Contact Us page
Don't worry – unlike other contractors near you who charge varying rates depending on size/complexity etc., we're committed first timers:
We'll come to an agreement on price, terms, and conditions
Once you are okay with the price, we provide our list of terms and conditions. As a licensed business it is important for us to follow industry rules so that they reflect in what type or kind of work can be done on your property/project site We make sure these regulations match up accordingly when providing services because without following them properly there could potentially hazardous situations occurring at sites due accidents such as cave-ins which could lead not only loss financially but also human life!
Schedule your concrete work early.
Schedule your requirements early to ensure that they get done on time! We always want what's best for our customers, so we make sure you have plenty of notice before starting any job. It also gives us enough preparation in case anything comes up or needs attention while working on your project (and trust me- sometimes things do!).
Start the concrete work
For our customers' satisfaction, we make sure to start work on time and complete each project with excellence. This is why you can always rely on us for prompt service while keeping quality as top priority from start-to -finish!
Concrete Patio
Stamped Concrete
Concrete Patio
Concrete has been our main go-to building material when it comes to suggesting one for most patios. This is because concrete is stronger than most other building materials and can withstand the outdoor elements better as well. Since concrete is also customizable, it gives you more leeway to tailor your outdoor space and to your specific liking, either through staining, stamping, or with concrete finishing techniques.
Stamped Concrete
Stamped concrete is a finishing technique that uses a stencil in a particular pattern, which is applied to wet concrete and allows it dry in the anticipated design. You can choose from a variety of stamping designs and patterns that help you achieve your desired finish. You can also choose to have your concrete mimic another building material, such as brick or stone, by using the stamping technique.
We work with many Kelowna and West Kelowna new home construction and home owners, as their designated concrete service provider. When you want high-quality services, allow our experts to handle your project for you. We work with the most skilled concrete contractors so that our customers can get the best value for their money. If you want effective and affordable services, you're sure to find it when you rely on us. Call for a quote today.